Actualité #1363
Lamentations 28/09/2016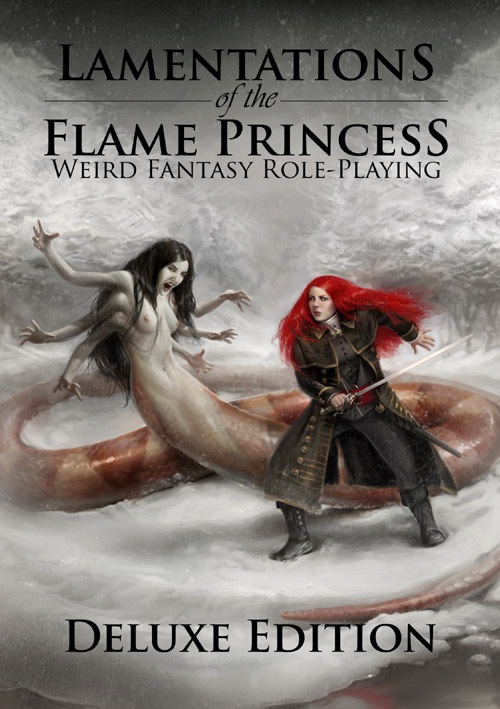 Fini la « mignonitude » du Baby Bestiary, on passe aux choses sérieuses, au politiquement incorrect, au sale même, au jeu qui sent le soufre, le sexe et le sang : Lamentations of the Flame Princess, LotFP pour les intimes, un jeu de James Edward Raggi IV.
Si vous aimez Chambers, Lovecraft, Barker et Lautréamont, si les films Troma et de la Hammer ont bercé votre enfance, si vous n'avez pas peur du noir mais que vous ne laissez pas pendre une jambe à coté de votre lit « au cas où », vous trouverez votre bonheur dans les thèmes qui jouent avec l'horreur et l'étrange de LotFP.
Le système est basé sur le jeu le plus populaire des années 70 et 80, et le rend donc compatible avec des centaines de modules et de jeux actuels, les fameux « rétroclones ».
LotFP dispose d'une quantité impressionnante de suppléments en VO et il serait impossible à nos équipes de tout traduire. BBE fera donc une sélection pour vous proposer ce qu'il y a de mieux, en commençant par « A Red and Pleasant Land » détenteur de plusieurs ENnies en 2015 (l'or du meilleur setting de jeu, l'or de la meilleure écriture, l'argent de la meilleure aventure, l'or du meilleur produit de l'année), écrit par le controversé Zak S.
Bien sûr avec la réputation qui précède le jeu, ses aventures et leur contenu, tout cela sera à réserver à un public averti, mention 18+ obligatoire.