Dragon Age
Thédas a besoin de vous !

Créé à partir des jeux vidéo à succès de la série Dragon Age, le jeu de rôle Dragon Age permet de vivre la fureur du riche monde fantastique de BioWare autour d'une table de jeu. Découvrez un monde médiéval-fantastique sombre aussi passionnant que cohérent et un système de jeu facile à appréhender, fondé sur le concept original et efficace des prouesses et du dé Dragon.
Quels personnages joue-t-on ?
Dans Dragon Age, vous endossez le rôle de guerriers, de mages et de voleurs du monde de Thédas, et tentez de vous faire un nom en affrontant des ennemis inquiétants et des périls mortels. Que vous jouiez un humain, un nain ou un elfe, votre personnage sera rattaché à un historique intimement lié au background du jeu.
Quels types d'univers et d'aventures ?
Thédas est un monde riche, qui propose une charpente solide sur laquelle le meneur de jeu pourra construire sa vision de cet univers très populaire. Vous pourrez tenir tête à de noires engeances au cœur d'antiques ruines naines, engager un duel verbal avec un noble orlésien ou découvrir les secrets de l'Immatériel…
Quel système de jeu ?
Pour réaliser un test, vous lancez toujours trois dés à 6 faces, dont le score total devra dépasser une difficulté. Mais attention, l'un de ces dés sera d'une couleur différente. Appelé le « dé Dragon », il a plusieurs utilités dans le système de jeu : il sert à mesurer le degré de réussite d'une action, à départager les égalités et à générer des points de prouesse.
Le Livre de base de Dragon Age contient tout ce qu'il faut pour se lancer à l'aventure :règles de création de personnage, règles du jeu, description détaillée de l'univers de jeu et même 3 aventures de qualité.
Dans notre Pack de lancement, vous trouverez : le Livre de base, indispensable, mais aussi l'Ecran du MJ accompagné de ses fiches d'aides de jeu, et le recueil de 3 aventures intitulé Massacre en Férelden, grâce auquel vous pourrez jouer de nombreuses heures supplémentaires.
L'histoire de Dragon Age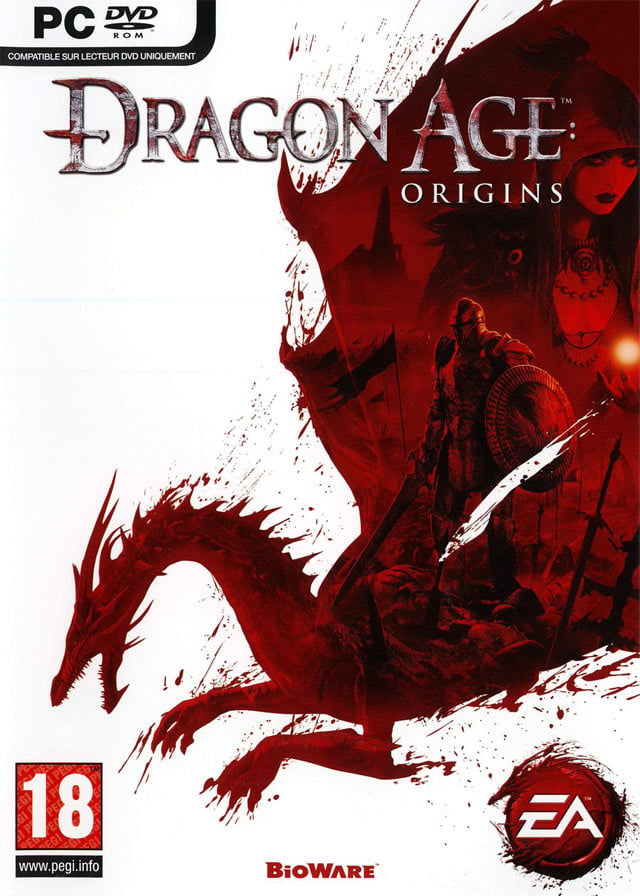 Dragon Age est avant tout un jeu vidéo développé par Bioware, éditeur qui compte à son actifdes titres tels que la série des Baldur's Gate, Knight of the Old Republic, Neverwinter ou encore Mass Effect – pas exactement des nouveaux venus dans le RPG. L'univers développé pour Dragon Age, Thédas, s'inspire principalement de la fantasy réaliste, comme le Trône de Fer de G.R.R Martin. Mais il faut ajoutez à cela une grosse dose de magie sombre, presque incontrôlable, des forces maléfiques issues des entrailles de la terre (les Engeances) qui corrompent des dieux anciens et qui font des incursions régulières en Thédas (les Enclins), un ordre de gardiens séculaire destiné à protéger coûte que coûte le monde de ces invasions (La Garde des ombres), des elfes réduits en esclavage, des nations prêtes à se sauter à la gorge à la moindre occasion… et vous obtennez un univers riche, non manichéen aux possibilités de campagnes infinies. Contrairement aux 3 jeux vidéo qui explorent chacun une seule partie du monde, ici vous êtes libres de faire jouer dans n'importe quelle région de Thédas, car toutes les nations y sont décrites.
---
Sous licence Green Ronin
Bioware (l'éditeur du jeu vidéo) : www.ea.com/fr-fr/games/dragon-age
Campagne suivant le scénario du jeu vidéo Dragon Age – Origins : sites.google.com/site/dragonagecampagne/home
Archaos, site de fan : www.archaos-jdr.fr/medfan/index.php?page=Dragon-Age
Les aides de jeu de la scénariothèque : www.scenariotheque.org/Document/info_jeu.php?f_id_jeu=345
129,90€

Dragon Age - Collector (avec étui et cartes)

124,70€

Dragon Age - Pack de lancement